Episodes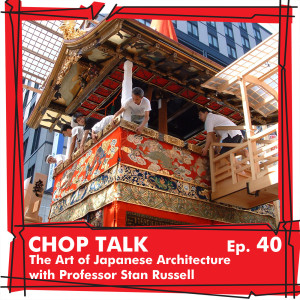 Monday May 18, 2020
Monday May 18, 2020
This week's guest is Professor Stan Russell, expert on Japanese architecture and carpentry.  Stan is an Associate  Professor at the University of South Florida in Tampa, Florida. He is also the founder of One Corner Architects, a full service Architetural design studio in Ybor City, Tampa Florida. One Corner Architects specialize in creative contemporary design solutions for residential, commercial, and institutional projects.  
Stan is very experienced in international architecture, having worked in the offices of Balkrishna Doshi in Ahmedabad, India, Team Zoo in Kobe Japan and he also apprenticed with a Japanese master carpenter in Hyogo, Japan.
Russell has presented and published papers in international, national, and regional conferences and journals.  His work has been featured in the Japanese periodicals Jutaku Tokushu, Kenchiku Bunka, The Japan Architect, Kazi, Shonan Style and Kenchiku Chisiki. His work in the US has been featured on the Architectural Record and Archdaily websites and has received numerous design awards.  
 I first met Stan about 10 years ago while I was attending Miami University in Ohio for my Master's degree in Architecture.  When I found out he was offering a class on Japanese architecture, I signed up right away.  He also became an advisor on my graduate thesis project, which focused on Okinawan Architecture.  Stan organized and taught a Japan Summer Studio ,  Where he took about 15 students to study architecture in Japan for 6 weeks.  This was an incredible experience for me and my classmates, and was the first time I had been outside of the US. This experience a big influence on my life and helped convince me to take a shot at living there. A few years later, Stan began running the same program for the University of South Florida, and since I was already in the country, he  was nice enough to let me tag along for a few days with the group again. To find out more about Professor Stan Russell, you can visit his website www.stanleyrussellarchitect.com
If you are interested in finding out more about his architectural work and Japanese carpentry, you can find his contact information on his website.